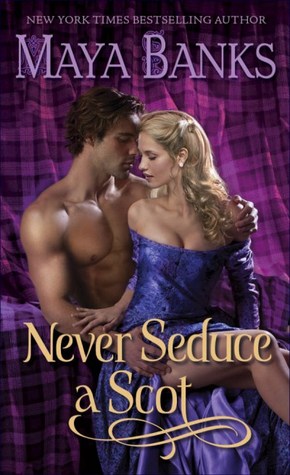 Never Seduce a Scot by Maya Banks
Genre: Historical Romance
Bottom Line: An adorable story with great characters, and a good amount of action.





The Montgomerys and Armstrongs
1.
Never Seduce a Scot
2. Highlander Most Wanted
3. Highland Ever After (2015)
Eveline Armstrong is fiercely loved and protected by her powerful clan, but outsiders consider her "touched." Beautiful, fey, with a level, intent gaze, she doesn't speak. No one, not even her family, knows that she cannot hear. Content with her life of seclusion, Eveline has taught herself to read lips and allows the outside world to view her as daft. But when an arranged marriage into a rival clan makes Graeme Montgomery her husband, Eveline accepts her duty—unprepared for the delights to come. Graeme is a rugged warrior with a voice so deep and powerful that his new bride can hear it, and hands and kisses so tender and skilled that he stirs her deepest passions.

Graeme is intrigued by the mysterious Eveline, whose silent lips are ripe with temptation and whose bright, intelligent eyes can see into his soul. As intimacy deepens, he learns her secret. But when clan rivalries and dark deeds threaten the wife he has only begun to cherish, the Scottish warrior will move heaven and earth to save the woman who has awakened his heart to the beautiful song of a rare and magical love.


My Thoughts:
Gosh, this book was adorable. Sometimes I feel like Scottish romances can fall into a very basic plot line, and it becomes difficult to distinguish them from one another. But I thought
Never Seduce a Scot
felt new and different. The story starts out with an arranged marriage between two clans with a major blood feud going on. Neither side is happy about it. Graeme, the laird of clan Montgomery, is ordered by the King to marry Eveline, the daughter of Laird Armstrong. Now for the twist that really made this book stand out for me: Eveline has been deaf and mute for three years since a riding accident. On top of that, she never told anyone she was deaf in order to avoid an impending marriage to an abusive man, so her entire clan, and the Montgomery clan, believe she is mentally ill. In reality, she is completely capable, and has even taught herself to read lips.
Graeme and Eveline were both so sweet. Graeme starts out angry, of course, because he is not just marrying the daughter of his sworn enemy, but a woman who he believes to be incapable of bearing his children, running the keep, etc. But while Eveline's family is equally angry, Eveline takes it upon herself to accept the marriage with grace, just so her family isn't so distraught. Good lord, this girl is tough. And Graeme, even through his anger over the situation, never treats Eveline without kindness. He's a big softy underneath that warrior exterior. The secondary characters are also fantastic. They really integrated into the story well, making me care about more than just the main couple. I adored Rorie, and I think there is a lot more to all the brothers than we saw here. In fact, I DEMAND
five more books; one for Rorie and each of the brothers! Got that Maya Banks? Alright, moving on...
The reason this book really stood out for me, aside from the twist with Eveline's deafness, was that the plot didn't dwell on Graeme and Eveline falling in love. I've found that in a lot of arranged marriage plots, especially when the two families despise each other, half of the book is just the hero and heroine fighting each other/ But that wasn't the case here. There was a lot more going on to keep this entertaining without that kind of struggle. That's not to say this book wasn't focused on the romance...it certainly had its fair share of hot scenes and tender scenes. This was a perfectly rounded book with lovable characters, a touching romance, and plenty of action.
Find it on: Amazon | Goodreads
|
Maya Banks