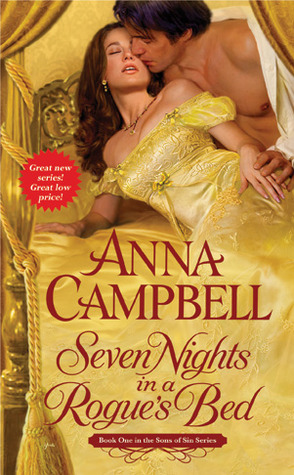 Seven Nights in a Rogue's Bed by Anna Campbell
Genre: Historical Romance
Bottom Line: You might like this if you are in the mood for a dark, angsty book with a heaping helping of seduction.


Sons of Sin
1.
Seven Nights in a Rogue's Bed
2. Days of Rakes and Roses
3.
A Rake's Midnight Kiss
4. What a Duke Dares
WILL A WEEK OF SEDUCTION . . .
Desperate to save her sister's life, Sidonie Forsythe has agreed to submit herself to a terrible fate: Beyond the foreboding walls of Castle Craven, a notorious, hideously scarred scoundrel will take her virtue over the course of seven sinful nights. Yet instead of a monster, she encounters a man like no other. And during this week, she comes to care for Jonas Merrick in ways that defy all logic-even as a dark secret she carries threatens them both.

. . . SPARK A LIFETIME OF PASSIONATE SURRENDER?
Ruthless loner Jonas knows exactly who he is. Should he forget, even for a moment, the curse he bears, a mere glance in the mirror serves as an agonizing reminder. So when the lovely Sidonie turns up on his doorstep, her seduction is an even more delicious prospect than he originally planned. But the hardened outcast is soon moved by her innocent beauty, sharp wit, and surprising courage. Now as dangerous enemies gather at the gate to destroy them, can their new, fragile love survive?
My Thoughts:
This was a very angsty novel... I think a lot of Anna Campbell's books have darker, haunted heroes, but this book had an extra dose of angst. In
Seven Nights in a Rogue's Bed
, the innocent, virtuous Sidonie ventures to Jonas' castle in place of her sister Roberta to repay a gambling debt. With her body of course. Jonas is set on sleeping with Roberta to shame her husband/ his arch-nemesis. Dramatic, eh? However, after seeing Sidonie, Jonas decides it will be more fun to draw out his seduction over a week instead of immediately...collecting the debt. Let the seduction begin...
I did like Jonas. He was troubled, lonely, and just waiting for a woman who saw him for who he was...even if he denied that was what he wanted. I love stories where the main man is scarred...physically, not just mentally. It lends a whole "Beauty and the Beast" feel to the story. Jonas is a marvelous seducer. This book definitely wasn't lacking on the steaminess. Would you expect anything different from a book with this title? My main issue was with Sidonie. I enjoy heroines who are tough and fun, but have a bit of a sensuous side when necessary. Sidonie was kind of blah. Though she could put on a brave face, and she certainly wasn't shallow, she spent a lot of her time just being too virtuous and whiny.
I thought the plot for this book was enjoyable. There were twists, there were turns. Heartbreak and true love. However, there's a very fine line for me where denying each other's love crosses from romantic to obnoxious. There were a couple times in this book where I just wanted to shove Jonas and Sidonie together and force them to kiss and make up.
I felt that at the very end of the book
the conflict was just chopped off and I was left a little unfulfilled. Overall, I think this is an alright book to read if you are in the mood for something darker.
Find it on: Amazon | Goodreads
|
Anna Campbell