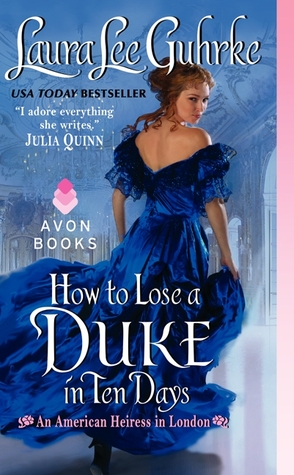 How to Lose a Duke in Ten Days by Laura Lee Guhrke
Genre: Historical Romance
Bottom Line: This is a great book to read if you are looking for a tender, emotional romance with an emotionally scarred heroine and a very sweet hero.



An American Heiress in London
1.
When the Marquess Met His Match
2. How to Lose a Duke in Ten Days
3. Catch a Falling Heiress (February 2015)
They had a deal...
From the moment she met the devil-may-care Duke of Margrave, Edie knew he could change her life. And when he agreed to her outrageous proposal of a marriage of convenience, she was transformed from ruined American heiress to English duchess. Five years later, she's delighted with their arrangement, especially since her husband is living on another continent.
But deals are made to be broken...
By marrying an heiress, Stuart was able to pay his family's enormous debts, and Edie's terms that he leave England forever seemed a small price to pay. But when a brush with death impels him home, he decides it's time for a real marriage with his luscious American bride, and he proposes a bold new bargain: ten days to win her willing kiss. But is ten days enough to win her heart?
My Thoughts:
Stuart is certainly one of my favorite historical romance heroes now. My God he was such a sweetheart. I was not sure I was going to like this story when it started off. Stuart had been gone for FIVE years...for their entire marriage. I truly doubted I would like a character who would do that to his wife. But Edie and Stuart's story certainly had some twists, and the reasons for their separation added some emotional turmoil to the story. This was a unique plot for me and I found I was completely enthralled from the beginning.
Edie was smart and strong, despite her awful fear of intimacy. She was also blatantly honest which brought some humor to the story. She never hesitated to bring Stuart's ego down a peg, and I loved the way they interacted. This story jumped straight into the romance. Stuart cared for Edie from the start, so there was a bit of a "love at first site" vibe...at least on Stuart's end. I expected this story to focus on seduction, but I was pleasantly surprised that the scenes were much more emotional and tender. There was certainly passion, but the majority of the book was just adorably romantic. The way that they needed each other to heal and be happy really sucked me in to this story.
Find it on:
Amazon | Goodreads
|
Laura Lee Guhrke