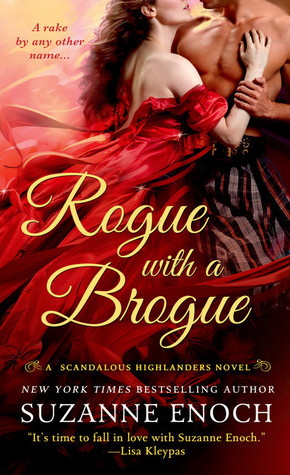 Rogue with a Brogue by Suzanne Enoch
Genre: Historical Romance
Bottom Line: A nice forbidden-love story, but the romance fell a little flat when the action picked up.


Scandalous Highlanders
0.5 One Hot Scot: A Holiday Story
1.
The Devil Wears Kilts
2.
Rogue with a Brogue
3. Mad, Bad, and Dangerous in Plaid (March 3, 2015)
A Rogue For Every Lady
London, 1817: Stuck in a Mayfair ballroom, thanks to his lovestruck brother, Highlander Arran MacLawry wants nothing but a bit of distraction from an arranged betrothal—and a clever auburn-haired lass in a vixen's mask promises just that . . . until he discovers that she's the granddaughter of the Campbell, chief of clan MacLawry's longtime rival. Despite their families' grudging truce, falling for fiery Mary Campbell is a notion too outlandish even for this Highlander…
The Thrill Of The Forbidden
Raised on tales of savage MacLawrys, Mary is stunned to realize the impressively strapping man in the fox's mask is one of them. Surely the enemy shouldn't have such a broad chest, and such a seductive brogue? Not that her curiosity matters—any dalliance between them is strictly forbidden, and she's promised to another. But with the crackling spark between them ready to catch flame, love is worth every risk…
My Thoughts:
I've been on a bit of a Scottish kick lately, so I thought it was about time to continue on with Enoch's Scandalous Highlanders. I was worried that this story would be just like
The Devil Wears Kilts
, just with a different brother. Luckily, this story had a completely different premise. Instead of Arran falling for a proper English miss, he fell for the daughter of his clan's biggest rival...of course. There was a lot of action, and a well developed romance.
Arran started out a little obnoxious. After hearing Ranulf's story, it was kind of tough dealing with Arran constantly accusing Ran of being selfish, or trying to convince him to leave Charlotte. Of course, Arran just hadn't learned how important love was yet. My problem was that while I really enjoyed how Mary and Arran's relationship built up in the beginning of the novel, I thought it kind of plateaued. Even with all the wonderful action in the second half, their interactions got a little...stale. It seemed to just be them commenting on how strong the other one was. Over and over.
Everything was nicely resolved in the end, and I certainly look forward to Winnie's story (Lachlan better start wooing!), though I also hope we see a happy ending for Jane. I have a feeling that poor girl has experienced unrequited love a few too many times.
Find it on: Amazon | Goodreads | Suzanne Enoch