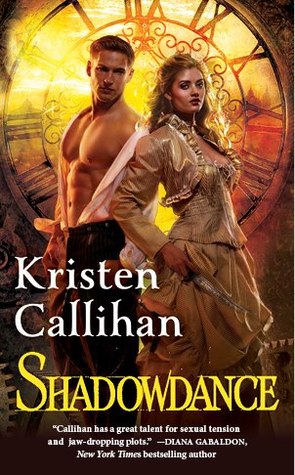 Shadowdance by Kristen Callihan
Genre: Historical Paranormal Romance
Bottom Line: A great mix of sexual tension and adventure complete with demons, shapeshifters, and ghosts.





Darkest London
1. Firelight
1.5 Ember
2. Moonglow
3. Winterblaze
3.5 Entwined
4.
Shadowdance
5. Evernight (August 26, 2014)
6. Soulbound (2015)
7. Forevermore (TBA)
Once a heart is lost in shadow...
Life has been anything but kind to Mary Chase. But the Society for the Suppression of Supernaturals has given her purpose. Now she's been tasked with catching a vicious murderer dubbed the Bishop of Charing Cross. But someone is already on the case—and the last thing he relishes is a partner.
Only someone who lives in darkness can find it.
Jack Talent has been alone with his demons for many years. He never expected to have the willful Mary Chase assist him on the Bishop case. Their age-old rivalry reaches new heights—even as their desire for one another reaches a fever pitch. Though he aches to bring her close, Jack's dark secrets are a chasm between them. With dangerous enemies closing in, Jack must find the strength to face the past...or risk losing Mary forever.
My Thoughts:
Boy, do I love Callihan's Darkest London series. I have been looking forward to Jack Talent's story through the past two books, and I was not disappointed. As a side note, I would suggest reading
Winterblaze
and possibly
Moonglow
before this book to get the whole experience, though this could be considered a stand-alone novel. You know what? Just go ahead and read
Firelight
while you're at it too!
I haven't read too many books about ghosts, but as I learned more about the creation and abilities of the GIMs, I really got into it. We also learn that there is a bit more to Jack's abilities than meets the eye. I love Callihan's ability to bring in some different types of supernaturals into her stories, especially ones that you don't see as much in books. The mystery part of the plot here was excellent. I was very surprised by the outcome, and it unfolded in a way that kept me engaged the whole way through.
I really loved the characters in this book. Jack and Mary were both strong, despite being emotionally damaged. Sometimes, I think authors can overdo it with the whole "emotional scarring" thing, but I thought there was just the right amount of emotion mixed in with the actual plot here. The romance side of the story had a touch of a forbidden love feel. The undeniable attraction between Jack and Mary was delicious...absolutely delicious. The one thing that kind of held me back here was that Jack sometimes acted immature. I realize he had his
reasons
, but the whole "I like you so I'm going to pick on you" thing? Really, that's the tactic you're picking? At some points, I just wanted to kick him. But this book was so well written and the characters were put together so wonderfully that I still loved it.
There was one tiny scene with Adam, the creator of the GIM's that had me begging for his story (hopefully with Eliza), and I was happy to find that the 6th book will be about him! Yay!
Find it on: Amazon | Goodreads
|
Kristen Callihan